EU Engagement Scholarships: Hey there, future scholars! If you dream of studying in the UK, the University of Strathclyde has an amazing opportunity waiting just for you! They want the best and most motivated students from the EU to join them for the 2023/2024 academic year. Imagine all the cool things you could learn and explore! Strathclyde is like a treasure chest of knowledge and adventure. Plus, they really care about making sure you have all the info you need to succeed. So, why wait? Apply for the EU Engagement Scholarships and unlock a world of learning and fun!
Studying at the University of Strathclyde is really awesome! It's a place where you can learn lots of interesting things. The teachers are friendly and help you understand cool stuff. When you study there, you can find lots of different jobs when you grow up. It's like a special place where you can follow your dreams and learn about what you really like. So, if you want to have a great time learning and get ready for an amazing future, Strathclyde is the place to go!
Description EU Engagement Scholarships
Here's some cool info for international students about the University of Strathclyde: They want to help lots of EU students study in the UK. You can get up to £10,000 to help with your special classes. You can apply online, and guess what? There's no limit to how many international students can get this help. Just remember, you need to apply by September 30, 2023, so don't wait too long!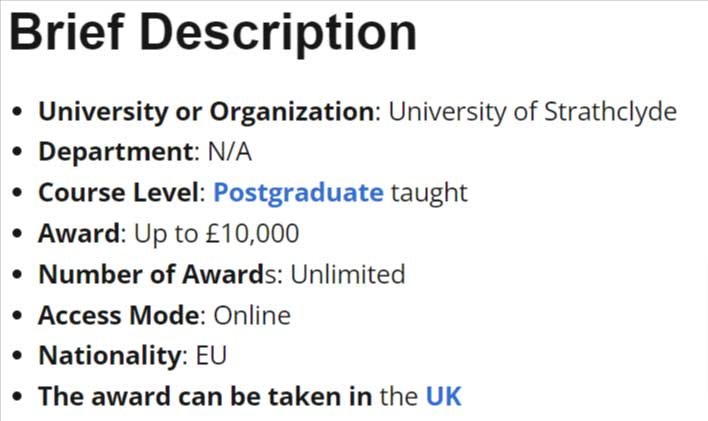 Who Can Apply?
If you're from the European Union (EU), you can apply for these scholarships. They're available for lots of different courses like Accounting & Finance, Architecture, Computer Science, and many more. To apply, you need to:
Live in the European Economic Area, Switzerland, or the UK when you apply.

Be considered an international student for tuition fees.

Be starting a full-time undergraduate or postgraduate taught Masters program in 2023.

Be an EU national or a family member who is self-funding their studies.
If you meet these requirements, you can apply for these scholarships!
Also apply for: Uni Step-Up Accommodation Scholarship at Australian Catholic University
How to Apply:
If you want to study at this cool university, here's what you need to do:
First, join a postgraduate degree program at the university.

Once you're part of the gang, you can fill out the application form online.
Supporting Documents:
To make sure everything goes smoothly, you'll need to send in some important stuff with your application:
Your school records (they call it a pre-qualification degree)

Copies of your report cards (academic transcripts)

Certificates that prove you're good at English

A statement (maybe about why you want to study here)

A copy of your passport (so they know who you are)
Admission Requirements:
To be considered for a master's degree, you should have a bachelor's degree already. That's like the ticket to the master's club!
Language Requirement:
To ensure that you can comprehend and communicate fluently in English, you may need to take an IELTS (Academic) exam and obtain a minimum score of 6.5 overall. However, please be assured that they do not expect any portion of your score to be below 5.5. I wish you good luck!
Benefits of EU Engagement Scholarships University of Strathclyde
The scholarship is like a special gift worth up to £10,000! It can help you pay for things like your school fees, where you live, and all the stuff you need for studying. So, it's like having a super helper to make your education easier and more affordable.
This scholarship is an amazing opportunity for students who dream of studying at the University of Strathclyde. With its generous support of up to £10,000, it opens doors to a world of learning and possibilities. So, if you're eager to pursue your education, explore exciting subjects, and prepare for an exciting future, don't miss out on this chance. Apply now and take that important step towards your dreams!