McMaster University is unveiling a golden opportunity with the introduction of the 5 McMU Scholarships Award of Excellence for the academic year 2024-2025 in Canada. These scholarships are designed to recognize and support exceptional students, providing a pathway to academic success. Let's delve into the details of this prestigious award.
Exploring McMaster: A Hub of Academic Distinction
Why Choose McMaster University?
McMaster University is not just a place of learning; it's a hub of academic distinction. Renowned for its commitment to innovative teaching methods and a stellar reputation, McMaster consistently ranks among the top universities in Canada.
Decoding the Details: McMU Scholarships Award of Excellence
Key Information
University: McMaster University
Department: Faculty of Engineering
Application Deadline: February 21st, 2024
Course Level: Bachelor
Award: Up to $25,000
Access Mode: Online
Number of Awards: 5
Nationality: International
Location: Canada
Who's Eligible for McMU Scholarships Award of Excellence?
Eligible Countries
Applications for the 5 McMU Scholarships Award of Excellence are open to students from all corners of the globe, fostering a diverse community.
Accepted Courses or Subjects
The scholarships cover a range of disciplines, including Bachelor of Technology, Computer Science, Engineering, and Integrated Biomedical Engineering & Health Sciences.
Admissible Criteria
To be eligible, candidates must be international undergraduate students entering Level 1 in the Faculty of Engineering.
Navigating the Application Process: Your Path to Excellence
How to Apply
Securing these scholarships is a straightforward process. Enroll in the bachelor of engineering coursework at the university, and as a registered student, you will automatically be considered for these prestigious awards.
Required Documents
Ensure a comprehensive application by attaching necessary documents: academic transcripts, SAT/ACT results, and AP test results.
Admission Requirements
Meeting specific entry requirements for your chosen qualification is crucial for a successful application.
Language Proficiency
Applicants must meet the English language requirements of the university, ensuring a smooth transition into the academic environment.
Reaping the Rewards: McMU's Commitment to Excellence
Benefits
McMaster University generously provides an award amount of $25,000 per annum, supporting high-achieving candidates throughout their four-year academic journey for McMU Scholarships Award of Excellence.
Seize the opportunity to shape your future at McMaster University. The application deadline is approaching fast—submit your application by February 21st, 2024, and embark on a transformative academic journey.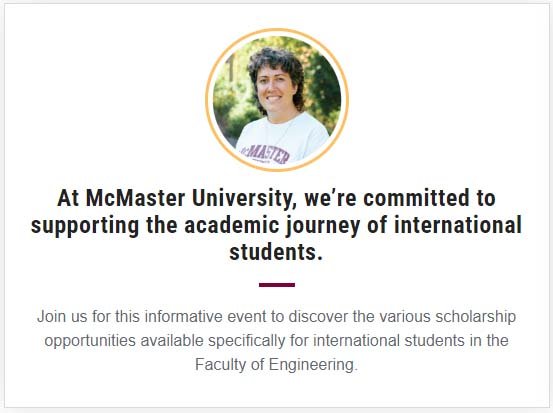 Conclusion: Your Journey to Excellence Begins Here
In conclusion, the McMU Scholarships Award of Excellence pave the way for international students to excel in technology, computer science, engineering, and health sciences. Don't miss out on joining a community that values innovation and academic distinction.
Seize the Opportunity and Shape Your Future
Embarking on the journey towards academic success with the New Engineering Brighter Future 5 Scholarships Award of Excellence at McMaster University is not just a choice; it's a pivotal step towards shaping a promising future. The financial support provided through these scholarships serves as a catalyst, allowing students to focus on their studies and maximize their potential. By choosing McMaster, you align yourself with an institution dedicated to nurturing talent and fostering a community of forward-thinkers ready to make a positive impact on the world.
Connect with McMaster's Legacy of Excellence
As you prepare to apply for these prestigious scholarships, remember that joining McMaster University means becoming part of a legacy of excellence. Alumni from McMaster have gone on to achieve remarkable feats in various fields globally. By securing one of the 5 Scholarships Award of Excellence, you not only receive financial assistance but also become part of a network that values innovation, critical thinking, and a commitment to making a difference. Apply now, connect with McMaster's legacy, and set the course for a brilliant academic and professional journey.
FAQs: Navigating Your Path
Q: What makes McMaster University stand out in terms of academic excellence?
A: McMaster's commitment to innovative teaching methods and problem-based learning distinguishes it among Canada's top universities.
Q: Are these scholarships open to students from any country?
A: Yes, the scholarships welcome applications from students worldwide.
Q: How can I enhance my chances of securing these scholarships?
A: Focus on meeting admission requirements, submitting comprehensive documents, and showcasing your passion for your chosen field.
Q: What sets McMaster's approach to language proficiency apart?
A: McMaster University ensures a smooth transition for international students by emphasizing English language proficiency.
Q: Is the application process for the scholarships complex?
A: No, it's straightforward. Enroll in the bachelor of engineering coursework, and you'll be automatically considered for the scholarships.
Embark on your academic journey with McMaster University, where excellence knows no bounds.