Great news for international students! If you're a motivated and curious student with a desire to explore new horizons, you may be interested in the Franz Werfel Grant. This grant is available to help students pursue postdoctoral degrees in the fields of Humanities, Linguistics, and Literature. It is offered by OeAD-GmbH, with support from the Austrian Federal Ministry of Education, Science, and Research. The grant provides a unique opportunity for students to enhance their academic journey and take their careers to the next level. If you're interested in applying, be sure to check the eligibility requirements and application process. Good luck!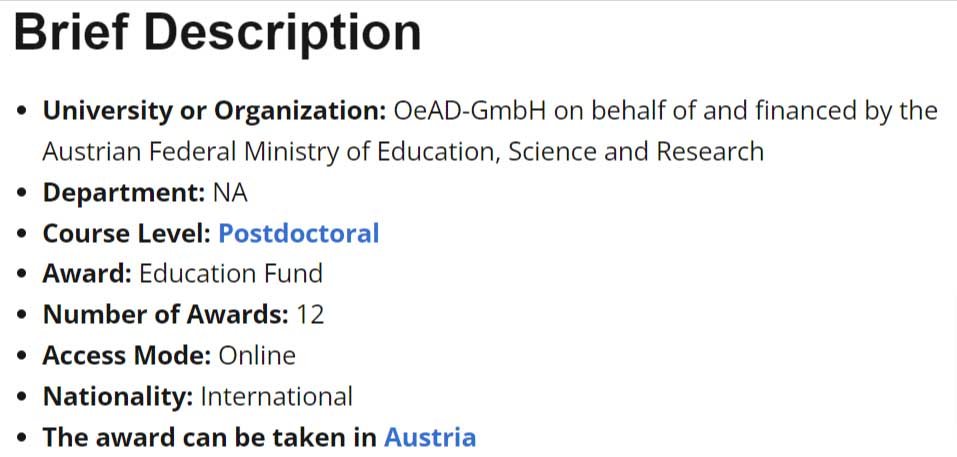 Your Path to Excellence at an Austrian University
Imagine yourself studying in a beautiful country that has breathtaking landscapes, a rich history, and top-notch education. Austria is the perfect place to turn your academic goals into reality. Thanks to OeAD-GmbH's partnership with Austrian universities and higher education institutions, you now have the opportunity to pursue your academic journey in a friendly and welcoming environment. Austria has a well-known dedication to education and research, which makes it an ideal platform to cultivate your academic aspirations.
Furthermore, studying in Austria is an excellent choice for international students, especially those whose first language is not English. The country is known for its excellent English language proficiency, making it easier for students to understand and communicate with their peers and professors. Additionally, Austria offers a wide range of courses taught in English, providing students with more options to choose from.
In terms of content, Austria is a hub of innovation and culture, offering students an immersive experience that goes beyond the classroom. You can explore the country's rich history, art, music, and cuisine, and even join student organizations to meet new people and make lifelong connections. Austria is also home to several multinational companies, providing students with opportunities to gain practical experience and develop a global mindset. Overall, studying in Austria is an excellent choice for international students who are looking for a supportive and enriching academic environment. With its world-class education, friendly locals, and vibrant culture, Austria is truly a destination worth considering for your academic journey.
Who's Eligible?
What are the requirements for the prestigious Franz Werfel Grant? It's quite simple – students from all corners of the world are eligible! If you have successfully completed a year's scholarship and are eager to further your academic journey, this grant presents a chance to shine. The program caters to individuals keen on pursuing postdoctoral studies in the captivating fields of Humanities, Linguistics, and Literature.
Perks of the Franz Werfel Grant
The Franz Werfel Grant is a highly coveted educational fund that offers numerous perks to its recipients. As a grantee, you will receive financial support to aid your studies during the academic session of 2023/2024. Additionally, you will also receive a monthly scholarship rate of up to EUR 1,250.00, which can go a long way in covering your expenses. This grant is a fantastic opportunity for students who are looking to invest in their education and gain valuable experience.
Apart from the financial benefits, the Franz Werfel Grant also provides recipients with a monthly mobility allowance of up to EUR 600, which is especially beneficial for those who plan on staying for three months or more. Moreover, OeAD-GmbH, the organization responsible for managing the grant, is dedicated to ensuring that grantees have a comfortable and healthy stay in Austria. They provide assistance with arranging accommodation and insurance, ensuring that students can focus on their studies without worrying about logistical issues. By accepting this grant, you will not only be investing in your future but also embarking on a memorable experience that can shape your academic career.
How to Make Your Dreams Come True by this scholarship
Are you interested in taking advantage of this incredible opportunity? If so, the application process is designed to be simple and easy to navigate. First, ensure that you meet all the eligibility criteria, including having a strong command of English and/or German. Then, gather all the required documents, including reference letters and proof of academic accomplishments. Keep in mind that success begins with a small step, and in this case, that step involves submitting your application through the online portal.
Don't Miss the Deadline!
Attention, students! The deadline to apply for the Franz Werfel Grant is September 15th. This is a great opportunity for an academic adventure, but time is running out. Make sure to mark your calendars and submit your application before the deadline to take advantage of this opportunity. Don't miss out!
Ready to Soar? Apply Now!
Do you yearn to broaden your academic horizons and explore the captivating realms of Humanities, Linguistics, and Literature? Waste no time and apply for the Franz Werfel Grant today to unlock a world of opportunities. Pursue your passion for learning and thirst for knowledge to embark on an unforgettable journey in Austria. Your dreams are within reach – take the first step towards making them a reality.
Apply Now and Illuminate Your Future with the Franz Werfel Grant!

Keep in mind that there are no limits to what you can achieve, especially with the Franz Werfel Grant. Don't delay – submit your application today and start your academic journey. Whether you have a passion for language, literature, or humanities, this grant can open doors to amazing opportunities. Seize the chance, pursue your aspirations, and let your talent shine on the international platform. Your adventure is waiting for you – apply now and begin your journey towards success!