Marshall Scholarships represent an incredible opportunity for young, highly talented Americans to pursue their dreams of higher education in the United Kingdom. In this article, we will delve into the details of the Marshall Scholarships program, its objectives, eligibility criteria, and the substantial value it offers to its recipients.
Marshall Scholarships: A Path to Excellence
Marshall Scholarships are prestigious awards that provide outstanding American students with the chance to undertake graduate-level studies in the UK, spanning a wide array of academic fields. Every year, up to fifty exceptional scholars are carefully chosen to embark on this educational journey, strengthening the profound connection between the British and American societies, governments, and institutions.
Programme Objectives: Fostering Future Leaders
The Marshall Scholarships program is guided by several key objectives:
1. Nurturing Future American Leaders
The primary aim of the program is to nurture intellectually distinguished young Americans, positioning them as future leaders of their country. By providing the opportunity to study in the UK, the program equips them with the knowledge and skills to contribute significantly to American society.
2. Building Understanding and Appreciation
Marshall Scholars gain a deep understanding and appreciation of contemporary Britain. This cultural immersion fosters cross-cultural awareness and empathy, which are crucial for building stronger international relationships.
3. Advancing Knowledge Across Disciplines
The program contributes to the advancement of knowledge across a spectrum of fields, including science, technology, the humanities, social sciences, and the creative arts. Scholars have the privilege to study at some of the UK's most esteemed academic institutions.
4. Ambassadors for Bilateral Understanding
Marshall Scholars are encouraged to act as ambassadors, fostering stronger ties between the USA and the UK throughout their lives. Their experiences and education abroad make them ideal candidates to promote a profound understanding between the two nations.
5. Personal and Academic Fulfillment
The program is designed to not only enrich the academic pursuits of the Scholars but also to enhance their personal growth. It's a journey towards self-discovery, knowledge acquisition, and holistic development.
Eligibility: The Path to Becoming a Marshall Scholar
To be eligible for a Marshall Scholarship, applicants must meet certain criteria:
Citizenship: Applicants must be United States citizens.
Educational Background: They should hold a first degree from an accredited four-year college or university in the United States with a minimum GPA of 3.7.
Graduation Timing: Candidates must have graduated from their undergraduate college or university after April to qualify for awards tenable from October.
It's important to note that individuals already pursuing or holding a British degree or equivalent qualification are not eligible for a Marshall Scholarship.
The Valuable Package
The Marshall Scholarship is more than just financial assistance; it's a comprehensive support system for students pursuing their academic dreams in the UK. The scholarship includes:
University Fees: Coverage of university fees.
Cost of Living Expenses: Financial support for day-to-day living expenses.
Annual Book Grant: Assistance for academic materials.
Thesis Grant: Support for thesis-related expenses.
Research and Daily Travel Grants: Funds for research and travel.
Fares to and from the United States: Assistance for travel to and from the UK.
Support for Dependent Spouse: In cases where a Scholar has a dependent spouse, financial support is also provided.
Number of Awards and Tenure
The Marshall Scholarships program awards up to 50 scholarships annually. The duration of the scholarship varies depending on the specific type:
Two Year Marshall Scholarship: This scholarship is tenable for two academic years, equivalent to 22 months. In some cases, it may be extended for a third academic year, subject to strong academic reasons and fund availability.

Additional Extensions: The University of Oxford and the Cambridge Trust may grant up to three third-year extensions to students pursuing a doctorate at their institutions.

One Year Marshall Scholarship: This scholarship is tenable for one academic year, or 12 months, and cannot be extended.
Applying for a Marshall Scholarship
Applicants can apply for Marshall Scholarships in one of eight regions in the United States. They must choose the region where they have their permanent home address or ordinary place of residence/employment, or the region where they are currently studying.
Application Deadlines
Applications for Marshall Scholarships must be submitted to the appropriate regional center in the US by late September/early-October of the year preceding the intended tenure.
Contact Information
For further information or inquiries, you can contact the Marshall Scholarship team at [email protected] or the regional center in the US.
Official Application Link
For those ready to embark on this exciting academic journey, the official link to apply for Marshall Scholarships is available here.
Marshall Scholarships Routemap
To help applicants determine which scholarship option is best for them, please refer to the image below for the Marshall Scholarship Routemap.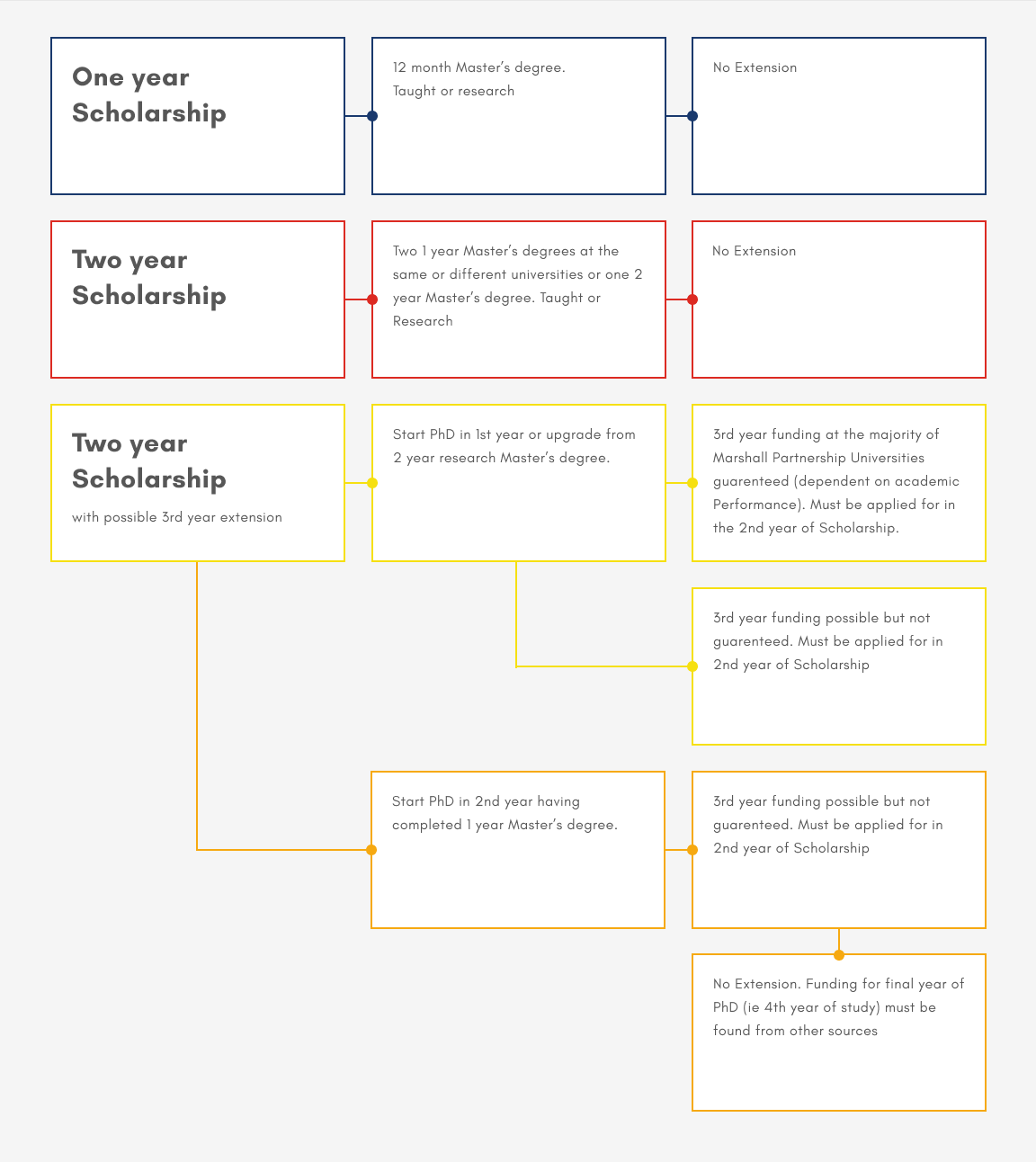 In conclusion, Marshall Scholarships are a gateway to academic excellence, cultural enrichment, and personal growth in the UK. They offer young Americans a unique opportunity to not only further their education but also to become ambassadors for international understanding and cooperation between the United States and the United Kingdom. If you're an ambitious, intellectually distinguished young American, the path to greatness may just start with a Marshall Scholarship.
Marshall Scholarships: A Life-Changing Opportunity
Marshall Scholarships open doors to a life-changing experience that goes beyond the classroom. As Scholars, you will find yourself immersed in the rich tapestry of British culture, forming lasting connections with peers from around the world. This unique opportunity provides a holistic education that extends well beyond your field of study, enriching your world perspective and fostering a global network of friends and colleagues.
A Bridge Between Nations
One of the most remarkable aspects of the Marshall Scholarships program is its role as a bridge between nations. It's not just about academics; it's about building bridges of understanding and friendship. As a Marshall Scholar, you'll not only be gaining knowledge but also sharing your American perspective, culture, and values with your British counterparts. This exchange of ideas and experiences contributes to the enduring relationship between the UK and the USA, reinforcing the bonds that tie these two nations together.
The Legacy of Marshall Scholars
The impact of being a Marshall Scholar extends far into the future. Many former Marshall Scholars have gone on to become influential leaders, academics, and ambassadors in various fields. They continue to work towards strengthening the relationship between the United States and the United Kingdom, proving that Marshall Scholarships are not just about a few years of study but a lifetime commitment to building a better world. So, if you're a young American with a passion for knowledge, a thirst for cultural immersion, and a desire to make a lasting impact, Marshall Scholarships could be the launchpad for your remarkable journey.